Set sail, create a better future! Guangdong Weishi Bio Brings New Products to CACLP 2022
From October 26 to 28, 2022, the 19th China International Laboratory Medicine and Blood Transfusion Instruments and Reagents Expo (CACLP), a grand event in the field of in vitro diagnostics in China, was held at Nanchang Greenland International Expo Center.
Guangdong Weishi Bio with independent research and development and production of 14 disease series covering more than 30 fluorescent detection reagent products and supporting instruments, chemical luminescence instruments and reagent products, the new crown series of detection kits wonderful appearance, attracted a lot of participants to stop to understand.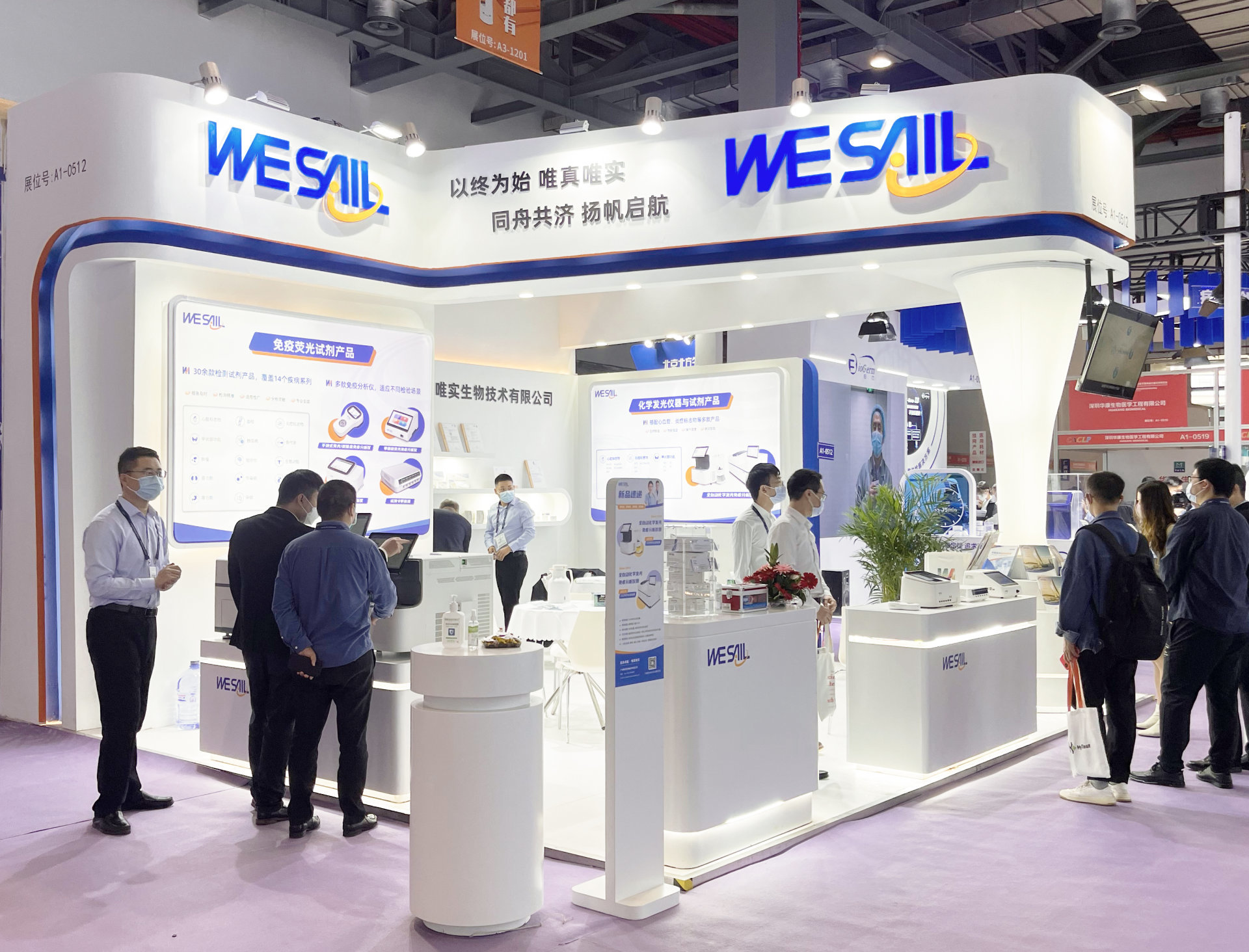 Heavy new products, wonderful appearance
On the first day of the exhibition, Guangdong Weishi Biology solemnly released a platform based on immunofluorescence.Myocardial Infarction Diagnostic Series Products(cTnI, Myoglobin, CK-MB, H-FABP, myocardial infarction triple examination), results within 8 minutes, with sensitivity comparable to chemiluminescence products, fast, accurate, convenient operation, won the attention of many participants.
The 2021 China Cardiovascular Health and Disease Report pointed out that the prevalence of cardiovascular disease in my country continues to rise. Myocardial infarction is one of the most common cardiovascular diseases in clinical practice. It is the premise of effective treatment to obtain accurate diagnostic information quickly through POCT.
The results one minute in advance mean that the patient's death risk will be reduced by one point and the prognosis effect will be improved by one point. Guangdong Weishi Biology will continue to improve the performance of myocardial infarction detection products and help early diagnosis and treatment of myocardial infarction with scientific and technological innovation.
At this grand meeting, Guangdong Weishi Bio also carried a wider range of products to appear:13 major categories of more than 40 immunofluorescence reagent products, covering the detection fields of cardiac markers, thrombosis, inflammatory markers, renal function, thyroid function, diabetes, bone metabolism, gastric function, tumor, brain injury, reproductive function, pregnancy, anemia, etc. The results can be obtained within 8 minutes, meeting the detection time requirements of emergency and severe cases and 5 major centers, and the samples do not need pretreatment. The same reagent card is suitable for one-step addition detection of serum, plasma, whole blood or urine, the sample quantity is consistent and the user experience is excellent.
Innovation leads, "intelligent manufacturing" new kinetic energy
This exhibition is independently developed by Guangdong Weishi BiologyChemiluminescence Instrument and Reagent ProductsFor the first time, the ingenious chemiluminescence instrument is matched with cardiovascular, inflammatory markers and other products to provide timely and accurate, stable performance, convenient operation, efficient and intelligent services for the world.
In addition, Guangdong Weishi BiologyFluorescence immunoassay supporting instrumentAs a "star product", fluorescent immunoreagent products and supporting products have reached a strategic cooperation with the National Center for Clinical Medical Research of Neurological Diseases to provide technical support and services for the "Curative Effect Research on High-risk Population of Mild to Moderate Ischemic Stroke or Transient Ischemic Attack" (CHANCE-3) project.
WESAIL Single Channel Fluorescence Immunoassay Analyzer
WESAIL Reagent Card Incubator
WESAIL Handheld Fluorescence Immunoassay Analyzer
WESAIL Six-Channel Fluorescence Immunoassay Analyzer
At the exhibition site, Guangdong Weishi Biology's independent research and development attracted much attention.New Crown Antigen Test Kit (Self-Test Version)The product has obtained the self-test CE0123 certificate issued by TÜV, which is simple to operate, does not require equipment, and can obtain results in 15 minutes, is effective for the detection of 30 mainstream variants, and can be used for the detection of new crown infection incubation period, early infection and infection period.
In addition, the newly built PCR and sequencing application platform of Guangdong Weishi Biology can meet the needs of more extensive and more sensitive detection. Its products cover infectious diseases, tumors, genetic genetics and other fields. It has the advantages of good specificity, simple operation, high popularity, fast detection and low cost, and helps the in vitro diagnosis industry to develop with high quality.
Multi-application scenarios
Help diagnosis faster, more accurate, more convenient
In response to the Healthy China Initiative, Guangdong Weishi Bio is driven by innovation and continues to innovate and upgrade its multi-legal and multi-scenario application platform--"Immunofluorescent colloidal gold chemiluminescence PCR and sequencing"The four application platforms fully cover IVD and OTC usage scenarios, forming a rich product line covering cardiovascular diseases, infectious diseases, brain injuries, kidney injuries, sex hormones, metabolic diseases, thyroid diseases, diabetes, birth defects and cancer, providing faster, more convenient, more accurate and effective testing services for the world.
In the future, Guangdong Weishi Biology will continue to uphold"Start with the end, only the truth, help each other in the same boat, and set sail"The development concept, insight into industry trends, accelerate product development and technological innovation, and bring faster, more convenient, more accurate and effective in vitro diagnostic medical products to users around the world.
The three-day CACLP is still going on. Welcome to A1-0512 booth for exchange and discussion. At the same time, I wish everyone good health!
Recommended News