Multi-law, multi-application scenarios! Guangdong Weishi Biological Innovation Upgrade IVD Technology Platform Helps "Healthy China" Action
2022 is implemented"Healthy China"In the "Notice of the Office of the Health China Action Promotion Committee on Printing and Distributing the Key Points of the Health China Action 2022 Work" issued by the Planning, Development and Informatization Department of the National Health Commission, it is emphasized that cervical cancer, cancer screening, cardiovascular and cerebrovascular, respiratory and metabolic diseases, early screening of primary respiratory diseases, chronic diseases such as hypertension and diabetes, and normalization of the prevention and control of the new coronary pneumonia epidemic will be the key work directions in 2022.
Guangdong Weishi Bio, which has always been with the health industry, is driven by innovation, adheres to the business development concept of "pursuing excellence, only truth and reality", continuously innovates and upgrades multi-legal and multi-scenario application platforms, deeply lays out various disease detection sub-fields, and helps the "Healthy China" action with scientific and technological innovation.
Guangdong Weishi Biology's "Immunofluorescence Colloidal Gold Chemiluminescence PCR and Sequencing" four application platforms fully cover IVD and OTC usage scenarios. The product line continues to innovate, forming a rich product line covering cardiovascular diseases, infectious diseases, brain injury, kidney injury, sex hormones, metabolic diseases, thyroid diseases, diabetes, birth defects and cancer, providing faster, more convenient, more accurate and effective testing services for the world.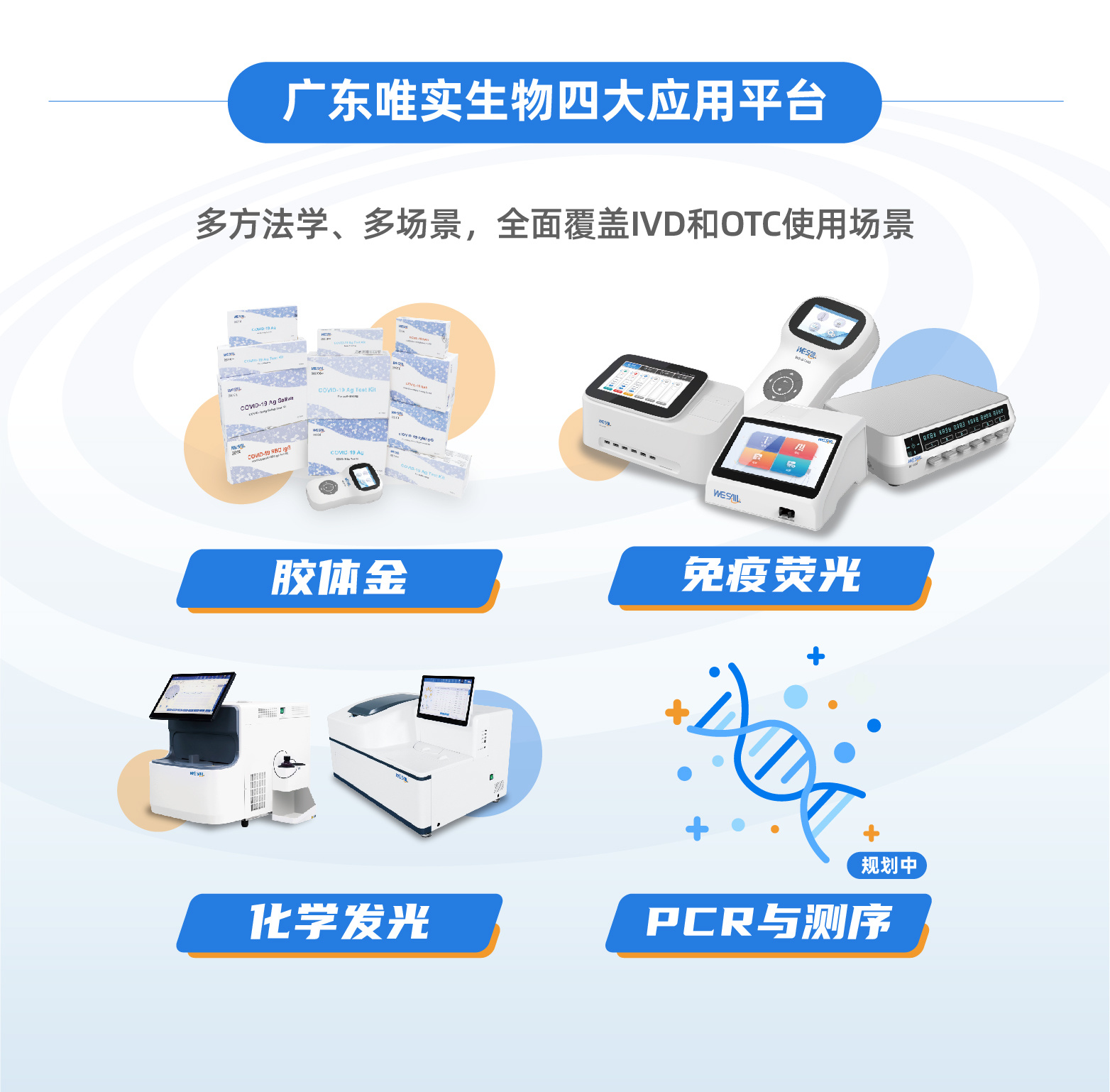 Multi-Law, Multi-Application Scenarios
Advantages of Guangdong Weishi Biological Four Application Platforms
1, Immunofluorescence Application Platform
Guangdong Weishi Biology has always been with health, continuously innovating and upgrading rapid detection technology, helping the construction of healthy China and contributing innovative strength to the global medical and health cause.
Based on the immunofluorescence technology platform, Guangdong Weishi Bio launched its own research and development of immunofluorescence reagent products and supporting instruments.Up to now, immunofluorescence reagent products have obtained 20 medical device product registration certificates (NMPA). The certified products cover 9 categories of myocardium, inflammation, diabetes, bone metabolism, pregnancy, gastric function, anemia, thyroid and renal function, and are matched with previously certified fluorescent immunoassay analyzers to provide faster, more accurate and more convenient testing services for the world.
Four advantages of WESAIL immunofluorescence application platform:
signal amplification technology:
High sensitivity comparable to chemiluminescence products supported by innovative fluorescent labeling technology

The reaction is highly specific.
Excellent user experience:
Full sample detection (serum, plasma, whole blood, urine) without pretreatment, convenient operation system, sample unified dosage 60ul;

2-8 minutes speed results, low cost and high performance;
Intelligent constant temperature incubation system precise temperature control:
Steady cooling to 18.5 ℃ for incubation, error ± 0.25 ℃, inter-channel uniformity ≤ 0.6 ℃

Avoid quenching of fluorescein caused by high external ambient temperature and weakening of signal
intelligent quantitative fluorescence analyzer:
Unique T-line C- line system; maximum flux 150 t/h

Preset quality control function, automatic identification of reagents and assay tables, fully intelligent result output
Full application scenario coverage:
Single-channel, multi-channel, handheld, small automatic and other different detection models to fully meet the needs of different market segments and different detection scenarios.
2. Colloidal gold application platform
Since the outbreak of the new crown epidemic, Guangdong only real rapid response, adhere to the "end as the beginning, only real, in the same boat, sailing" development concept, spare no effort to develop rapid testing products.
Based on the colloidal gold technology platform, Guangdong Weishi Bio launched its own research and development of the new crown series of testing kits and instruments, which can meet the different application scenarios of the rapid detection of the new crown virus, and work together to promote the construction of a human health community.
WESAIL New Crown Antigen Self-Test Kit (Colloidal Gold Method) has a clinical performance comparable to that of mainstream international manufacturers and has been certified by multinational authorities:
German PEI certification

Enter the BfArM White List of the German Federal Agency for Drugs and Medical Devices

The 8th Worldwide shortlisted ANSM Home Antigen Test Kit White List of French Food and Drug Administration

The fourth in the world to obtain the CE0123 self-test certificate issued by the well-known certification body TÜV SÜD (only 6 new crown testing companies in the world have obtained this certificate for their products)
During the continuing severe epidemic in Hong Kong, WESAIL's new crown antigen self-test kit helped prevent and control the epidemic in Hong Kong, and appeared on CCTV news channel CCTV-13 "News Room" and Hong Kong Wireless News (TVB).
WESAIL handheld colloidal gold immune analyzer five advantages:
Simple operation: UI interface is exquisite, intelligent human-computer interaction

Powerful performance: difference between machines ≤ 3%, stability ≤ 1%

Small and convenient: comfortable feel, support one-handed operation

Instant detection: 360 T/H, high-speed response mode

Complete functions: plug-in and battery life, data support WIFI and Bluetooth transmission
3. Chemiluminescence application platform
Based on chemiluminescence detection methodology, Guangdong Weishi Biology has continuously enriched the list of chemiluminescence reagent products. The products cover the inspection fields of myocardium, thrombosis, inflammation, gastric function, tumor and bone metabolism. With WESAIL full-automatic chemiluminescence immunoassay analyzer, it provides timely and accurate detection services with stable performance, convenient operation, high efficiency and intelligence for global users.
Advantages of WESAIL Chemiluminescence Application Platform:
Using acridinium ester direct chemiluminescence, the reagent is more stable, the test is more rapid

Using nano superparamagnetic beads, the reaction is more thorough

More sensitive detection, more accurate determination

Reagent is stable, on-machine standby

Easy to operate, ready to use
4, PCR and Sequencing Application Platform
Guangdong Weishi Bio implements innovation-driven, builds a multi-law, multi-application scenario IVD technology platform, and actively lays out PCR and sequencing application platforms (under planning) in the field of molecular diagnostics, with products covering infectious diseases, tumors, genetic genetics and other fields.
Advantages of PCR and sequencing application platforms:
PCR is suitable for detection with known gene loci and high sensitivity requirements.

Quantitative analysis, good specificity, simple operation

High popularity, short detection time and low cost
Guangdong Weishi Biology will always adhere to the development concept of "starting with the end, only truth, helping each other in the same boat, and setting sail", insight into industry trends, and guided by multi-legal and multi-application scenarios, to bring faster and more Convenient, more accurate and effective in vitro diagnostic medical products!
About Guangdong Weishi Biology
Guangdong Weishi Biotechnology Co., Ltd. is located in Songshan Lake, the fertile land of innovation in the Guangdong-Hong Kong-Macao Greater Bay Area. It is located in the geometric center of Dongguan, facing Hong Kong and Shenzhen in the south and Guangzhou in the north. Guangdong Weishi Bio adheres to the business development philosophy of "pursuing excellence, only truth and reality", attaches importance to product research and development and technological innovation, and is committed to providing diagnostic customers with excellent performance in vitro diagnostic reagents and ingenious supporting instruments.
Recommended News