19 Product Registration Certificate (NMPA)! Guangdong Weishi Bio-Immunofluorescence Latest Product Summary
Up to now, Guangdong Weishi Bio's immunofluorescence reagent product matrix has been obtained.19 Medical Device Product Registration Certificates (NMPA)The certified products cover 9 categories of myocardium, inflammation, diabetes, bone metabolism, pregnancy, gastric function, anemia, thyroid and renal function, and can be officially sold in China with the previously certified supporting fluorescence immunoassay analyzer!
List of certified products
High Sensitivity Cardiac Troponin Ⅰ(hs-cTn Ⅰ) ELISA Kit

N-terminal pro-brain natriuretic peptide (NT-proBNP) ELISA Kit

Myoglobin (Myoglobin) ELISA Kit

ELISA Kit for Creatine Kinase Isoenzyme (CK-MB)

ELISA Kit for Heart Fatty Acid Binding Protein (H-FABP)

D-Dimer (D-Dimer) Assay Kit
ELISA Kit for Procalcitonin (PCT)

ELISA Kit for Interleukin-6 (IL-6)

Full C- Reactive Protein (hs-CRP CRP) ELISA Kit

ELISA Kit for Serum Amyloid A(SAA)
| | |
| --- | --- |
| | Assay Kit for Glycosylated Hemoglobin (HbA1c) |
| | |
| --- | --- |
| | Osteocalcin (Osteocalcin) ELISA Kit |
ELISA Kit for β-Human Chorionic Gonadotropin (β-hCG)

ELISA Kit for Luteinizing Hormone (LH)
| | |
| --- | --- |
| | Urinary microalbumin (MAU) ELISA Kit |
ELISA Kit for Pepsinogen Ⅰ(PG Ⅰ)

ELISA Kit for Pepsinogen Ⅱ(PGⅡ)
| | |
| --- | --- |
| | Ferritin (Ferritin) ELISA Kit |
| | |
| --- | --- |
| | ELISA Kit for Thyroid-stimulating Hormone (TSH) |
Four advantages of immunofluorescence technology platform
Since its establishment, Guangdong Weishi Bio has insisted on independent innovation, constantly tamping the cornerstone of the technology platform, and has built three major technology platforms: immunofluorescence, colloidal gold and chemiluminescence. Among them, the immunofluorescence technology platform has the following four advantages:
The results were obtained within 8mins, meeting the testing time requirements of critical and severe cases and 5 major centers.
Large equipment imported from benchmarking central laboratory, r≥ 0.95
Characteristic project hs-cTnI minimum detection limit is 20pg/mL, normal detection rate ≥ 50%
The same reagent card is suitable for serum, plasma and whole blood samples, and the sample loading amount and incubation time are the same, resulting in excellent user experience.
Weishi Biological hs-cTn Ⅰ Detection Kit
Troponin I is a key regulatory protein of striated muscle tissue and is associated with muscle contraction. At present, there are three subtypes of troponin, among which cardiac troponin I (cTnI) has a high degree of myocardial tissue specificity and can distinguish skeletal muscle lesions from myocardial damage. It is unanimously rated as a high-specificity and high-sensitivity diagnostic marker for the diagnosis of acute myocardial infarction by the American and European Heart Associations, and is currently recognized as the "gold standard" for the diagnosis of myocardial infarction ", the sensitivity of high-sensitivity troponin I can reach 0.02ng/mL, which can be the best auxiliary diagnostic index for myocardial injury in patients with no ECG changes and no typical clinical symptoms.
Only real biological hypersensitive cardiac troponin I (hs-cTn I) detection kit (immunofluorescence method) is suitable for direct detection of whole blood, serum and plasma samples, with a minimum detection limit of 20pg/mL, a normal detection rate of ≥ 50%, and only 8mins is required to report the results.
Weishi Biological NT-proBNP Test Kit
NT-proBNP is a hormone polypeptide synthesized and secreted by the ventricle when the ventricular volume load or pressure load increases, myocardial cells are pulled or vascular permeability increases, which can objectively and truly reflect the cardiac function. It is mainly used to assist in evaluating the severity of patients with congestive heart failure, the risk classification of patients with acute coronary syndrome and congestive heart failure, and the treatment monitoring of patients with left ventricular dysfunction, it is a cardiac biomarker for the diagnosis of heart failure, judging the disease process, guiding the treatment and evaluating the prognosis.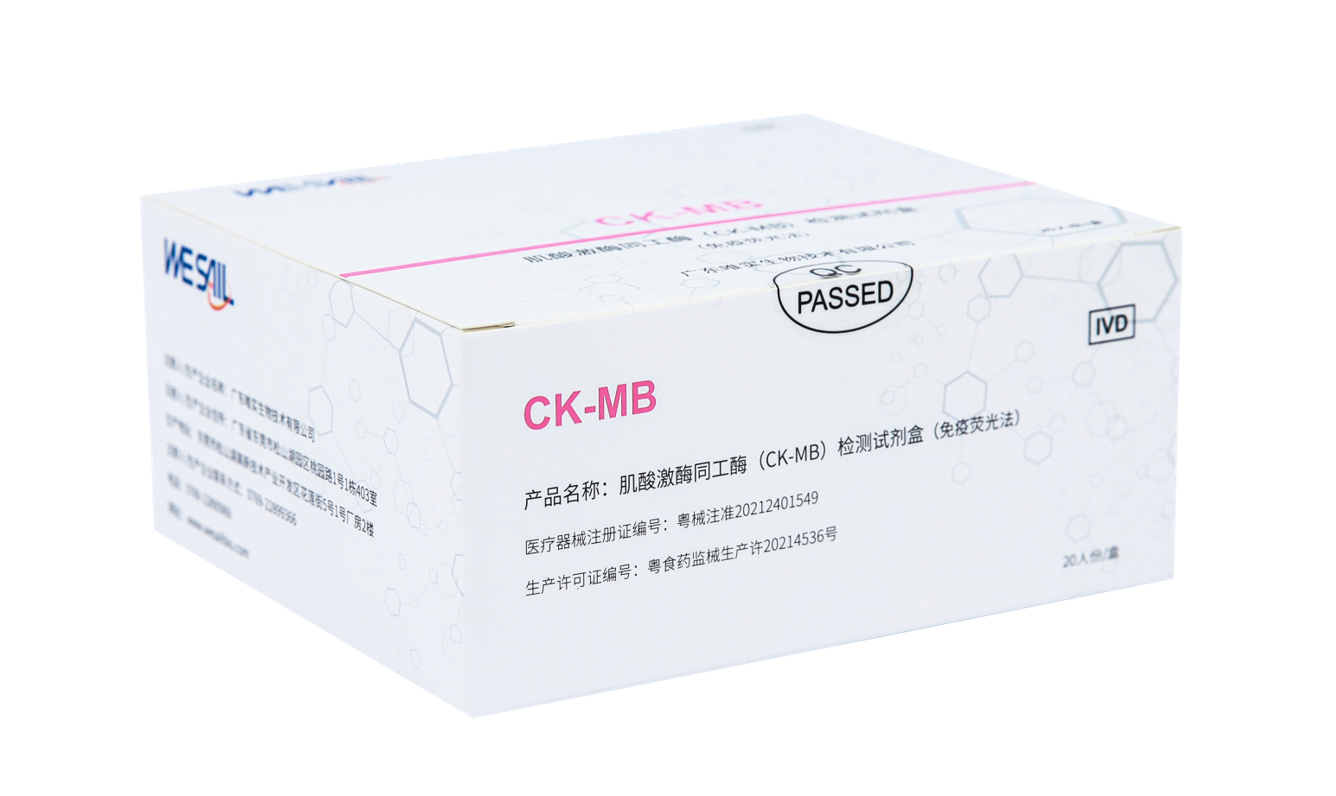 Weishi Biological CK-MB Test Kit
Creatine kinase isoenzyme (CK-MB) mainly exists in myocardium, which is one of the important markers of serum enzyme spectrum in the diagnosis of myocardial infarction. When acute myocardial infarction (AMI) occurs, CK-MB is released into the blood, begins to increase at 4-6 hours, reaches a peak concentration at 10-24 hours, and returns to normal levels within 48-72 hours. When the blocked myocardial coronary artery is recanalized, the CK-MB in the myocardial cells will be washed out by the blood flow, resulting in an increase in CK-MB. The effect of thrombolytic therapy can be evaluated according to the change of CK-MB concentration. Therefore, CK-MB can be used as an auxiliary diagnostic index to evaluate the degree of myocardial injury, the effect of thrombolytic therapy, the scope of re-embolization or embolization and the risk classification.
Weishi Biological Myoglobin Test Kit
Myoglobin (Myoglobin) is a unique protein in muscle tissue. Oxygen is supplied to give energy when muscle movement requires energy. In acute myocardial injury, Myoglobin is first released into the blood. After symptoms appear for about 1-3 hours, blood Myoglobin can exceed the upper limit of normal, reach a peak in 6-9 hours, and return to normal after 24-36 hours. Patients with chest pain are continuously monitored for 2 to 12 hours of Myoglobin concentration, and acute myocardial infarction (AMI) can be ruled out if the concentration is not elevated. Therefore, continuous detection of Myoglobin levels can be used for early diagnosis of AMI, with a good exclusion significance.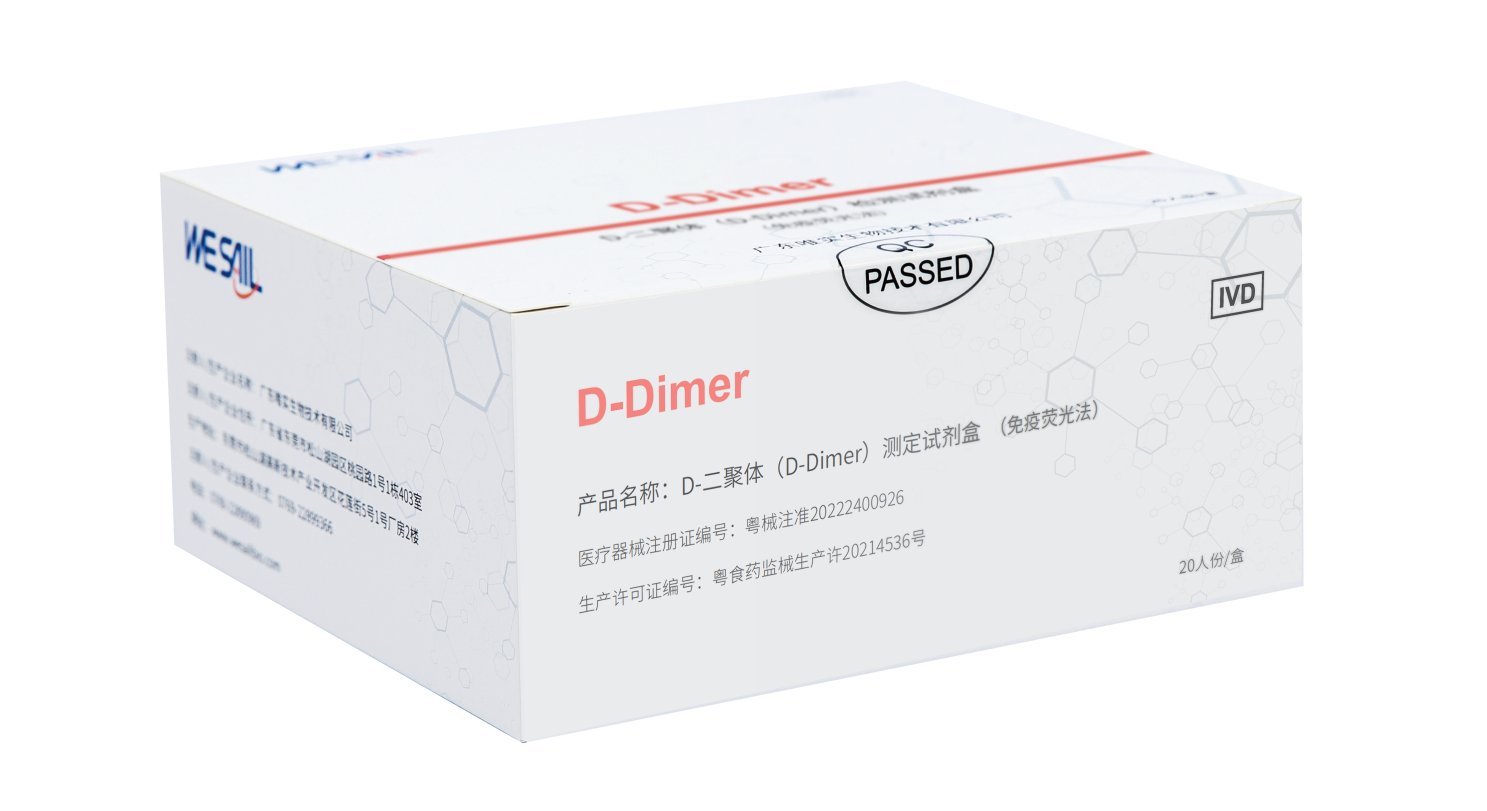 Weishi Biological D-Dimer Assay Kit
After the fibrin monomer (fibrinmonomer) in the blood is cross-linked by activated factor XIII, it is hydrolyzed by activated plasmin to produce a specific degradation product called "fibrin degradation product (fibrind degradation products,FDP)". D-dimer (D-Dimer) is the simplest fibrin degradation product, and the increase of its mass concentration reflects the hypercoagulable state and secondary hyperfibrinolysis in vivo. Therefore, the mass concentration of D-dimer is of great significance in the diagnosis, evaluation of curative effect and prognosis of thrombotic diseases. Because of its high sensitivity and negative predictive value, D-dimer negative has been clinically used as an important basis for excluding pulmonary embolism (pulmonary embolism,PE) and deep venous thrombosis (DVT).
Weishi Bio PCT Test Kit
Under physiological conditions, the content of procalcitonin (PCT) in the human body is very low, and there is no significant increase in viral infection and non-bacterial infectious inflammatory response, but in patients with severe bacterial infection and sepsis, the level of PCT in the body will be significantly increased. It is a very sensitive and specific serum marker for the diagnosis of bacterial infection or sepsis. PCT detection is mainly used in the differential diagnosis of patients with suspected infection or fever of unknown origin, the diagnosis of sepsis, the monitoring of treatment effect; the differential diagnosis of respiratory system infection, the monitoring of treatment, the management of antibiotic use; the monitoring of bacterial infection after surgery.
Weishi Bio HbA1c Test Kit
Glycosylated hemoglobin (HbA1c) is the product of continuous irreversible non-enzymatic reaction between erythrocyte Hb and glucose in human blood, and the level of glycosylated hemoglobin is proportional to the concentration of blood glucose in the body. Because glucose is always bound to hemoglobin throughout the life cycle of red blood cells, the measurement of glycated hemoglobin can reflect the average blood glucose level of the subject in the past 8 to 12 weeks, rather than the instantaneous blood glucose level at the time of sample collection. The Guidelines for the Prevention and Treatment of Type 2 Diabetes in China (2020 Edition) formally incorporated glycosylated hemoglobin into the diagnostic criteria for diabetes for the first time: glycosylated hemoglobin (HbA1c) measured by standardized testing methods can be used as a supplementary diagnostic criteria for diabetes in laboratories with strict quality control.
single channel fluorescence immunoassay analyzer
The adapted single-channel fluorescence immunoassay analyzer WS-Si1000 simple and intelligent operation, high low-value detection accuracy, simple and clear UI interface, and humanized interaction. The difference between machines is less than or equal to 3%, the stability is less than or equal to 1%, and the performance is comparable to imported chemiluminescence instruments.
multi-channel fluorescence immunoassay analyzer

handheld fluorescent immunoassay
Pursuit of Excellence · Realism
Guangdong Weishi Bio is a high-tech enterprise certified by relevant national departments, with a research and development team and a senior marketing team that has been deeply involved in the industry for more than 20 years. Based on the deep insight into the future development trend of the industry, the company has continuously consolidated the cornerstone of the technology platform, constructed three major technology platforms of immunofluorescence, colloidal gold and chemiluminescence, and formed a rich product line, covering cardiovascular disease, infectious disease, brain injury, kidney injury, sex hormone, metabolic disease, thyroid disease, diabetes, fertility defects and cancer, To provide patients with faster, more convenient, more accurate and effective testing services.
Guangdong Weishi Biology will adhere to the development concept of "pursuing excellence, only truth and reality", and promote technological innovation in the industry by accelerating the layout of subdivided fields, so as to set sail with customers and the future!
Recommended News