WESAIL debuts at MEDICA 2021 to share innovations with the world!
On November 15, MEDICA, the world's largest and most influential medical industry event, opened in Dusseldorf, Germany. This is the first time that WESAIL meets this world-wide exhibition city and opens a wonderful new chapter.
Since its inception, WESAIL has been adhering to the concept of "pursuit of excellence, only truth and reality", continuous technological innovation, to provide a strong driving force for the development of the industry. The event, WESAIL with independent research and development and production of the new crown series of detection kits, 13 disease major fluorescent detection kits and supporting instruments unveiled.H3/K92-6To show the world the unique innovation results.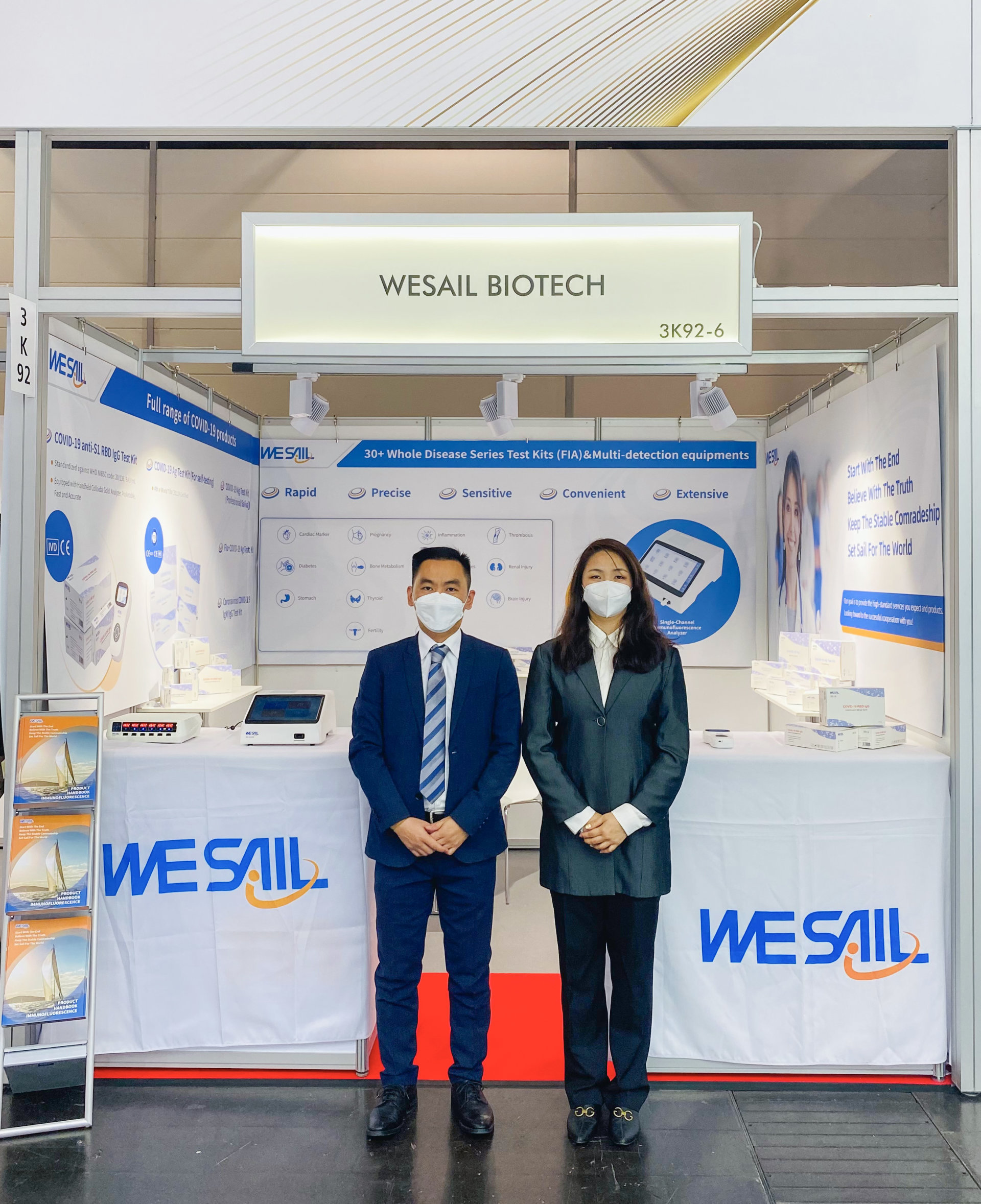 Currently, the neo-crown epidemic is still raging around the world, and WESAIL has never let up in helping to prevent and control the global epidemic. WESAIL has independently developed a series of new crown detection products with excellent performance and ingenuity, including the new crown antigen (COVID-19Ag) test kit (self-test version/professional version/saliva version), the new crown RBD antibody test kit, the new crown neutralizing antibody (NAb) test kit, the new crown antigen influenza (Ag Flu) test kit and the new crown IgM/IgG antibody test kit.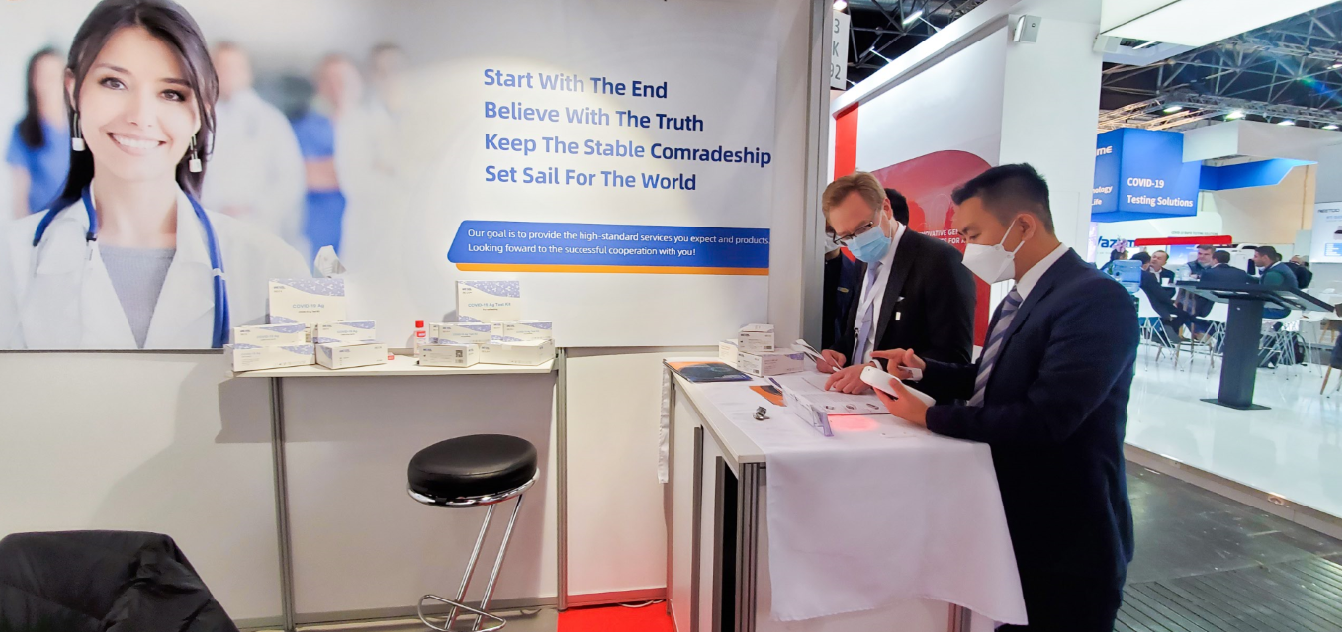 In order to meet the needs of different scenarios of epidemic detection, WESAIL continues to optimize innovative products. WESAIL launchedNew Crown Antigen Test Kit (Self-Test Version)Widely concerned, the product has been issued by TÜV self-test CE0123 certificate, simple operation, no equipment, and in 15 minutes to obtain results, the 30 mainstream variant strain detection is effective, can be used for the detection of new crown infection incubation period, early infection and infection period.
This exhibition WESAIL also carried a wider range of products unveiled:
Covering more than 40 immunofluorescence reagent products in 13 categories, including cardiac markers, thrombosis, inflammatory markers, renal function, thyroid function, diabetes, bone metabolism, gastric function, tumor, brain injury, reproductive function, pregnancy and anemia, etc., the results can be obtained within 8 minutes, meeting the detection time requirements of critical and severe cases and 5 major centers, and the samples do not need to be pretreated, the same reagent card is suitable for one-step sample addition detection of serum, plasma, whole blood or urine, with consistent sample addition and excellent user experience.
Handheld fluorescence immunoassay analyzer and handheld colloidal gold test paper analyzer, compact and convenient, simple operation, powerful performance, help POCT more portable, faster and more accurate.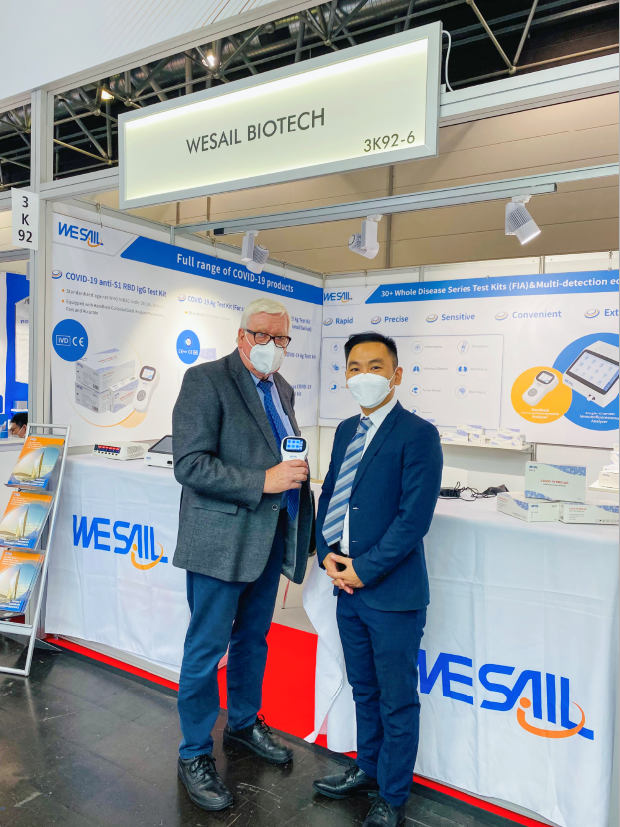 With the rapid development of in vitro diagnostics industry, the innovation ability and innovation speed of enterprises are facing greater challenges. WESAIL always starts"Start with the end, only the truth, help each other in the same boat, and set sail"Guided by the concept of in vitro diagnostics, we continue to make breakthroughs and innovations in the field of in vitro diagnostics, and make rapid adjustments and optimizations based on customer feedback and market demand.
In the future, WESAIL will continue to adhere to innovation and breakthrough, positive insight into the future trend of the industry, accelerate the realization of product breakthrough upgrade, further enhance the global competitiveness, so that medical innovation results benefit everyone!
The four-day MEDICA continues, welcomeH3/K92-6Booth and WESAIL exchange discussion, at the same time wish everyone good health!
Recommended News